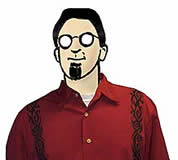 Ding.us Design is primarily Paul Vaughn with support from other freelance professionals as needed. Paul is a graphic artist, web designer, writer and technology consultant. He has been working in the graphics industry since the mid-1980s and is skilled in loads of graphics software including Adobe Photoshop, Adobe InDesign, Adobe Illustrator, Adobe Dreamweaver, Microsoft Office and plenty more.
Services include design and construction of small to moderate scale web sites, custom web graphics, ads for print and web, brochures, displays, CD and DVD covers, t-shirt design, business cards, maps, file conversions, general graphics troubleshooting and more.
Paul Vaughn has produced advertisements, presentations, business cards, corporate ID, CD covers and a wide variety of other projects. He is a master of converting files into various formats and troubleshooting graphic arts projects. Paul has designed everything from logos to storefronts to t-shirts to wedding invitations. He has a creative, off-center style with tendencies toward the post-modern…whatever that means. Satisfied clients include photographic labs, manufacturers, sign makers, non-profits, lawyers, martial artists, retailers and bowling teams.
Paul Vaughn has helped several businesses and individuals create a presence on the World Wide Web. Image galleries to informational to the just plain weird. Paul shoots for a site that is easy to understand and navigate while maintaining a great look. Special attention is placed on ensuring that sites load quickly and efficiently. Sites can be built in traditional HTML/CSS or using a content management system like WordPress. Ding.us Design also offers Web Hosting services for select clients.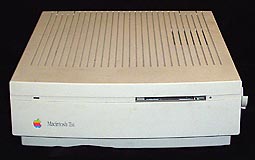 Paul Vaughn has been on Macs since 1990. His first Mac was a Mac IIsi (20Mhz 68030 processor with 5MB RAM and a 100MB hard drive, pictured at right). He has an intimate knowledge of Macintosh Operating Systems through OS X along with a good working knowledge of Windows and working in cross-platform environments. He wrote the weekly Mac Guy column in the Sunday San Antonio Express-News for 8 years. The column focused on Macintosh technology and issues, and the Mac Guy answered reader questions. Paul still blogs about Macs, iPods, technology and graphics.
Paul also wrote the monthly Graphics Guy column for PC Alamode, the award-winning magazine of the Alamo PC Organization.
Paul Vaughn teaches web and graphic design at the International Academy of Design and Technology in San Antonio, Texas where he serves at the Department Chair for Technology. He has also taught at the Southwest School of Art.
Aside from Adobe Photoshop, his favorite graphics program is Kid Pix.